GoGirl – Camo
Ladies, you need a GoGirl!
From traveling the world to tackling everyday chores, there are plenty of reasons to use GoGirl. Here are just a few of the ways GoGirl can help you, whatever your activities or lifestyle:
• Outdoor or active lifestyle
• Travel lifestyle
• Everyday lifestyle
• Medical/Elderly Lifestyle
1 in stock
---
Description
Ok, so what's a GoGirl?
The GoGirl is quite possible the best Feminine Urinary Device (FUD) in the market! Simply put, GoGirl allows women to urinate while standing up. It's neat. It's discreet. It's hygienic.While the concept may be new to you, European women have used female urination devices for years. GoGirl provides women everywhere a way to stand up to crowded, unsanitary, distant or non-existent bathrooms.
For a woman's convenience – on the go with GoGirl
GoGirl is easy to use. Just hold GoGirl against your body, forming a seal. Aim and, well, pee. Pretty simple, huh?
GoGirl fits easily in your purse, pocket, or glove compartment. It's a must for travel and sports. And it's great for everyday – no more crouching over or trying to cover up an unsanitary public toilet.
For Medical or Elderly Lifestyle
GoGirl was originally created for women who have recently had hid or knee surgery to help in circumstances where bending and squatting are physically impossible. GoGirl is also an ideal solution for pregnant women or women recovering from surgery who have trouble urinating into a cup at the doctor's office.
Why GoGirl?
Only GoGirl is made with flexible, medical grade silicone. Dispose of it after use. Or clean and reuse as you like. (Urine is sterile, but the product can come into contact with contaminates during use, so take precautions when cleaning.) The patented splash guard eliminates messing and spilling. Once you practice a time or two, using GoGirl is going to feel like second nature.
How to use GoGirl?
GoGirl is easy to use, but standing to go to the bathroom is a new concept for most women. Here are a couple of tips to help you use GoGirl effectively. Try GoGirl at home, in the shower if possible, to master your technique. With a little practice you can simply unzip your fly and go to the bathroom without having to remove your pants.
How to hold GoGirl?
The best way to hold GoGirl is by using your thumb and middle finger, stretching from front to back. Because it's made of medical-grade silicone, it's felxible and works with any body shape. Maintaining a seal on the back-end is key. It's best not to hold GoGirl from side-to-side.
Applying too much pressure on the sides can cause it to collapse, which can break the seal in the back.
Try a few times at home to master your techniques so you'll know what to expect and feel more confident when you need GoGirl on the go. Don't get discouraged if you dribble the first time or two. With a little practice GoGirl will work perfectly every time.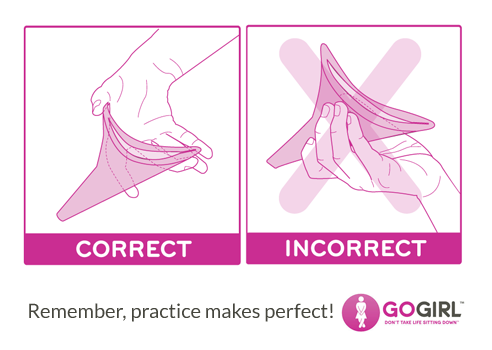 Storage & Reuse:
There is a tissue and a baggie included with each GoGirl. The baggie is to store your GoGirl after use. When convenient, wash with soap and water, (or give a squirt from a water bottle for temporary solution). GoGirl is made from flexible medical-grade silicone which is germ resistant and dries quickly. Give a little shake, fold it half and stick in the baggie. And because GoGirl is reusable, it's environmentally smart.
---
Reviews (0)
Only logged in customers who have purchased this product may leave a review.
---